Bharosa is for Everyone
While existing mutual funds investors get the most value through our technology, there is a lot for people who have never invested before too. The Bharosa membership is always Paisa Vasool. Join the Club Today.
For Mutual Fund investors
Our technology is the best in the world and helps you both improve performance and reduce taxes so that you make more.
Exit Losers & Invest in Winners
Get rid of funds that are pulling you down and switch to ones that deliver Paisa Vasool
Fund selection
Exit losers & Invest in winners.
Our tech does the heavy lifting, taking into account when you invested, what you invested in, your tax bill etc. and gives you simple and actionable insights to help you make better decisions.
Paisa Vasool.

Identify exactly which funds have delivered low value for their fees.

Tax efficient redemptions.

Gives you a clear picture of your tax implications if you choose to sell any units.

Low cost replacements.

Identify low-cost replacements. Paying high fees is a big reason for not getting market returns.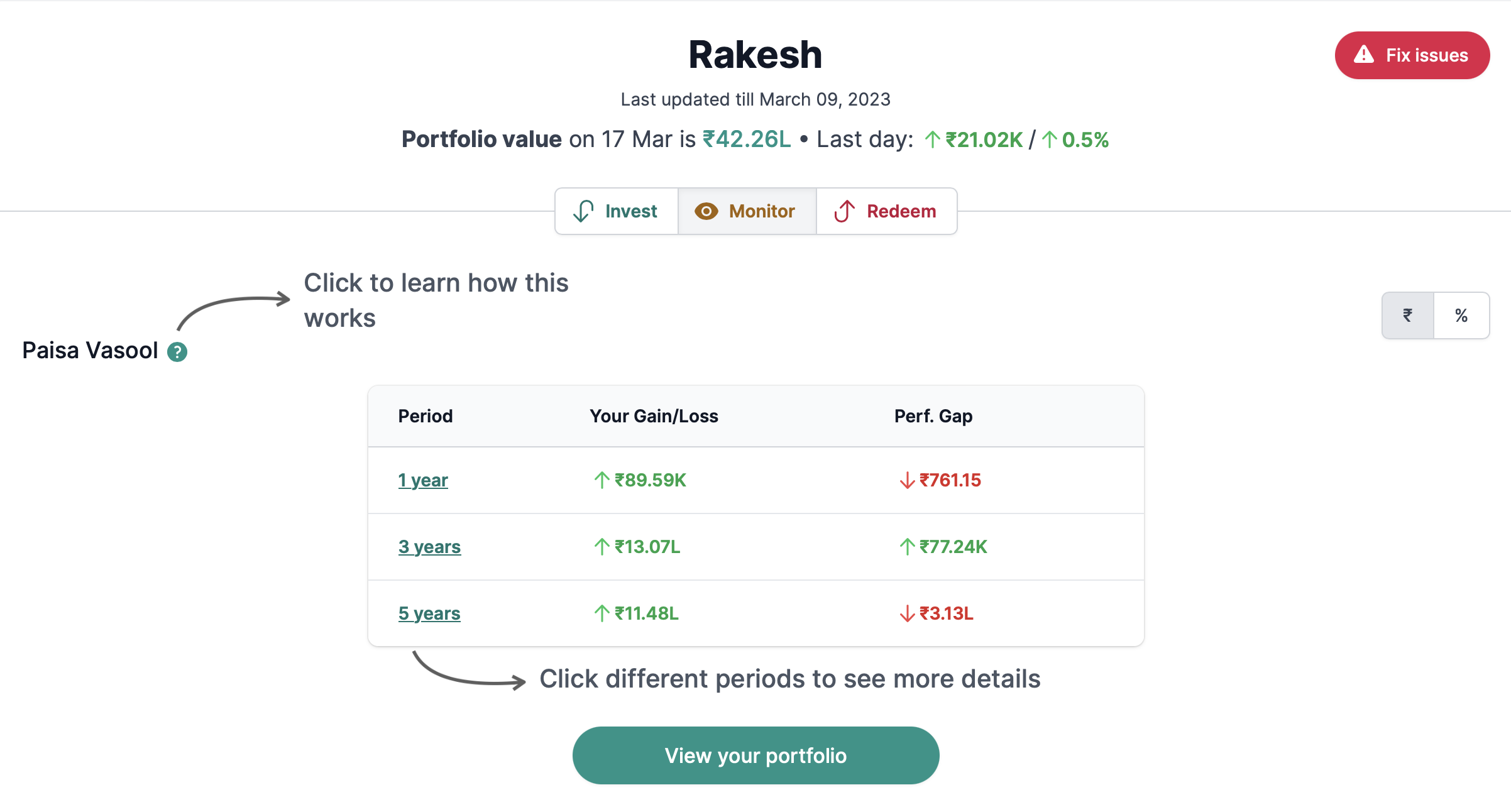 Monitor
Monitor your mutual funds with ease and get real time alerts to bad funds and tax events
Monitor
Stay on top 24✕7
Monitoring your mutual funds is tough! Let our technology do the hard work.
Understand performance.

Get a clear understanding of your portfolio's performance.

Alerts.

Simple alerts tell you what you need to know, when you need to know.

Track improvements.

Watch your portfolio improve with our tools.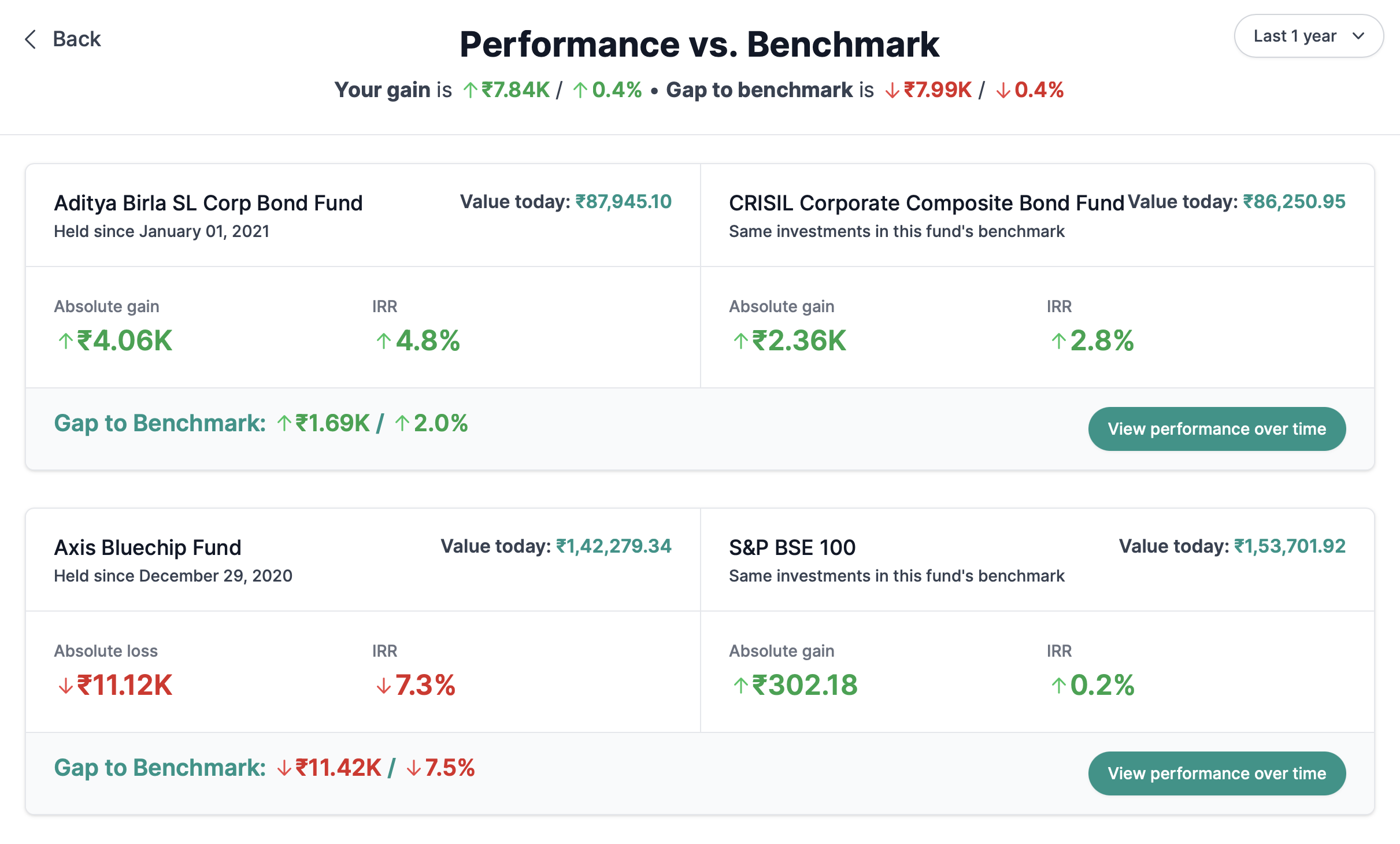 Community (Coming soon!)
Learn from other members and understand how your portfolio compares to the rest of the club.
Learn
Learn together. Earn together.
Work together to improve your prosperity. With Bharosa's social features this is easier than ever before.
Compare.

See how your portfolios compares to all Bharosa members on key metrics.

Share.

Share your portfolio with friends without revealing sensitive information.

Webinars.

Benefit from other members' questions and problems.
Webinars for Everyone
Our weekly webinars help members learn how to improve their portfolio while simplifying it as well as answering any questions they might have.
Get the most out of the tools
Learn to use Bharosa's world class tools so you can simplify, improve and monitor your finances.
Actually understand Personal Finance
Understand personal finance from first principles using our innovative mental models and ideas.
Get your questions answered
Our experts answer all your finance questions and queries and help you learn how to solve your problems.
And so much more...
We will keep adding more value with time and this is what you get today.
Paisa Vasool Bundles

Paying less Paisa and getting more Vasool is Nirvana for a member seeking Paisa Vasool. These bundles may help you achieve Nirvana.

WealthSimple™ Bundles

Low cost index equity funds to get started with as little as ₹10/month

Add Money Playground

We are sure you will find this playground a WOW experience . Check it out by joining the club today.

Explore Funds

Want to pick mutual funds that beat the index. This is tough but our Explore Funds can help.

Make your Kids Understand Personal Finance

Even a baby can have a mutual fund account. Tiny SIP can create oceans of Wealth.

Avoid Traps Podcasts/Videos

Most of us have been victims of bad selling. How can we avoid becoming a victim.